Apr 13, 2010
District 66 Precinct Locations
Precincts 90, 109, 116, 123, 137, 176: Brinker Elementary School 3800 John Clark Parkway
Precincts 14, 81, 86, 89, 108, 112, 124, 167: Daffron Elementary School 3900 Preston Meadow Dr
Precincts 15, 19, 31, 53, 65, 70, 71: Haggard Middle School 2401 Westside Dr
Precincts 32, 63: Hughston Elementary Scool 2601 Cross Bend Rd
Precincts 34, 119, 135; Mathews Elementary School 7500 Marchman Way
Precincts 64, 69, 76, 107, 121, 139: Schimelpfenig Middle School 2400 Maumelle Dr
Precincts 26, 49, 67, 72, 138: Wilson Middle School 1001 Custer Rd
Precincts 28, 75, 105, 143: Renner Frankford Libary 6400 Frankford Road
Find your voting location using the map below. Voting hours are 7 a.m. to 7 p.m. on April 13th.
Each location below includes the corresponding precinct numbers. Have voting questions? Please call the campaign number anytime at (972) 369-2504 or email .(JavaScript must be enabled to view this email address)
Apr 12, 2010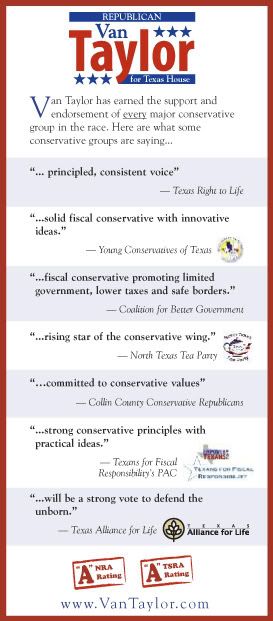 Apr 12, 2010
You can help out these last two days of the campaign by donating your Facebook profile picture! Simply save the photo below to your desktop and then set it as your Facebook profile picture until the polls close tomorrow at 7 p.m.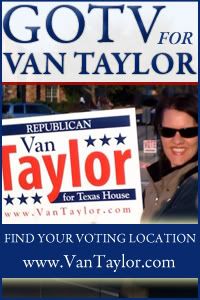 On Twitter? Change your twitter avatar to support Van!
Apr 11, 2010
There are only two days left in this campaign, but you can still help Van win Tuesday's election! We need volunteers for a variety of tasks on Monday, and we need poll greeters any time between 7 AM and 7 PM on Tuesday.
If you would like to help out either of these days, please call Assistant Campaign Manager Michael Perrin at (401) 835-0195 or the campaign hotline at (972) 490-5400.
Apr 09, 2010
The details for the memorial service for Denise Short Smith are as follows:
When: Saturday, April 10, 2010 10:00 AM
Where: Oak Point Park Pavilion
Apr 09, 2010
Van's former opponent Wayne Richard has written a letter urging voters to support Van in the April 13th runoff election. Read the letter below:
Hello everyone,

The "clock is ticking" could refer to many important issues in our lives. Of course as a conservative I believe the clock is ticking on the future direction of our country and state. In November we will as a nation have the opportunity to take our country back by voting in a Republican majority in the house and senate.

With the break neck speed Obama is dismantling our constitution, November seems a long way off. However we conservatives have an opportunity to impact the future direction of our state legislature today by voting in the Republican primary. But again, the clock is ticking as early voting is winding down minute by minute.

We have a responsibility to insure District 66 has a true conservative voice in this next session: a session I believe will have an impact on both our state and our nation. With all the discussion regarding the 10th Amendment, the future redistricting of our state as a result of the census, cap and trade and of course the health care debacle we must have a strong Republican majority. That goal of ensuring a solid Republican majority in Austin starts right here in District 66!

If you have not done so already, I respectfully ask you to vote today for Van Taylor as I believe he will best represent our conservative causes in Austin. It is up to us, we can make it happen. Vote today for Van Taylor.

Early voting locations for District 66 are identified below. Early voting today and tomorrow from 7:00 to 7:00. Election day is Tuesday April 13th.

Carpenter Park Recreation Center 6701 Coit Road Plano
CCCC-Spring Creek Campus 2800 E. Spring Creek Plano
Christopher A. Parr Library 6200 Windhaven Pkwy. Plano
Haggard Library 2501 Coit Plano
Harrington Library 1501 18th St. Plano
Plano ISD Administration Building 2700 West 15th Plano

God bless Texas, Wayne

Wayne S. Richard
Former Candidate, Texas House of Representatives
Apr 09, 2010
Find an early voting location using the map below. Early voting hours are 7 a.m. to 7 p.m. from April 5th-April 9th.
April 13th is Election Day - polls will be open from 7 a.m. to 7 p.m.
You can cast your early vote anywhere in Colin County:

View HD66 Early Voting Locations in a larger map
Apr 08, 2010
Van Taylor has received the endorsement of one of Plano's leading conservatives, Kelly Shackelford. Read Kelly's endorsement below:
"There is a clear contrast in the April 13th run-off for State Representative. Van Taylor has taken strong, principled stands on important issues of the day such as opposing tax increases, limiting government growth and protecting the unborn. Van Taylor will be a dependable conservative vote in Austin, and I strongly endorse his candidacy. I always support the conservative in the race. In this race, there is no question who that is - I fully support Van Taylor."
Kelly Shackelford
President, Liberty Institute*
Plano
*Organization listed for identification purposes only
Apr 08, 2010
We have one last weekend before election day on April 13, and we need your help! We are going to be knocking on doors in an effort to get out the vote this weekend on both Saturday and Sunday. Details are as follows:
Dates: Saturday, April 10 and Sunday, April 11
Times: 1 PM on Saturday, 10 AM on Sunday
Also, don't forget to be emailing and calling your friends reminding them to vote! We need for turnout to be as high as possible.
Please RSVP to (972) 369-2504 or .(JavaScript must be enabled to view this email address) if you can join us.
Apr 05, 2010
An Easter photo sent in by a great supporter!